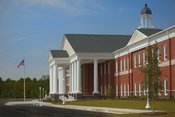 Saraland High School opened January 4, 2010
Saraland City School System opened its doors to students during the summer of 2008. The system is comprised of three schools—Saraland Elementary School (grades pre-K-4); Saraland Middle School (grades 5-8), and Saraland High School (grades 9-12). In January 2010, construction of the Saraland High School campus was complete and high school students began attending classes in this state-of-the-art facility. Beginning with the 2008-2009 school year, a grade level was added to the high school each year. Our first senior class was seated with the 2011-2012 school year.
Since its inaugural year, student enrollment has increased from 1,535 to 2,862. Current student enrollment at Saraland Elementary School is 999, Saraland Middle School is 880, and Saraland High School is 983. Eighty-one percent of the student population is white, eighteen percent is black, and the remaining two percent is comprised of Hispanic, American Indian/Alaskan Native, Asian, Native Hawaiian/Pacific Islander, and other races. Fifty-one percent of our students receive free/reduced lunch.
Saraland City School System employs 289 persons, of whom 189 are teachers. The pupil-teacher ratio is 20:1.